Get your prescriptions in 20 minutes!
As a small neighbourhood pharmacy, we take services seriously, and take our time getting to know you. Then we do whatever it takes to provide you a superiour, caring experience.
Greet you and give you their full attention
Double-check prescriptions to prevent drug interactions
Consult with you about your medicine's benefits and precautions
Work with your insurance company and even drug manufacturers to find you the best possible price
Preferred pharmacy for many Medicare D Plans
Free flavoring for liquid medicines
24 - hour ordering with RX App or online
Dedicated to your health and well - being, we offer a variety of additional health-related services, right in your neighbourhood
Or we can arrange to come to work with you and vaccinate your whole work-group
Covid-19 Vaccines
(Moderna, Pfizer and Janssen)
Influenza (Flu) shots
Shingles Vaccine
Pertussis vaccine
Tetanus vaccine
Meningitis vaccine
Stop in whenever we're open - no appointment necessary!
LET'S TALK ABOUT THE ISSUES THAT WORRY YOU. 
Personalized Concerns
We offer extended, personalized consultations on weight loss, exercise, diabetes management, etc. We've found that a little professional guidance can help you make small changes that result in more robust health!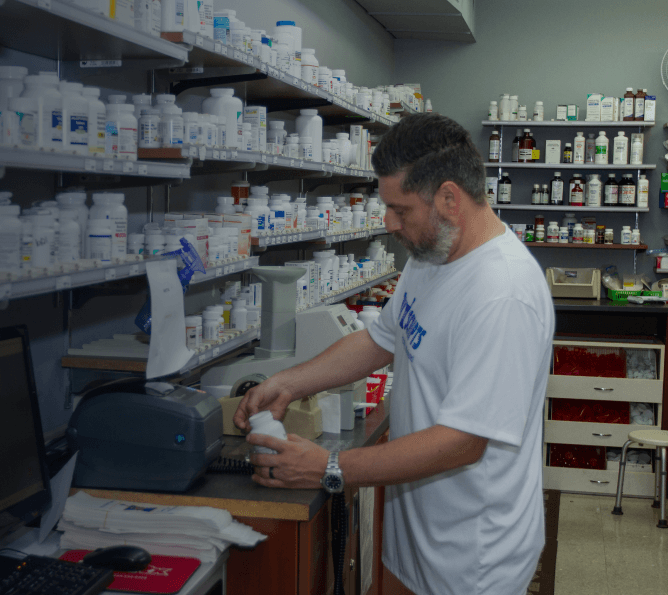 "Probably one of the most amazing pharmacists I have ever encountered. They all know our names, our kids' names and their ages. Whenever my kids have been really sick all the doctor does is send the prescription over and in 2 hours it's at my house.
I truly don't know what we would do without you guys. You are one business that has concentrated on valuing people and families and getting to know us not just as clients but as people. We have been faithful customers since your first location in Lansing and will continue to always be faithful customers."
-Kristin Nagle McCoy